Stray bullet victims
7 deaths and 15 injuries per year
On Sunday, September 19, 2021, Tatiana Wakim, a Lebanese young woman, fell victim to stray bullets in a Keserwan restaurant, thereby joining hundreds of victims who died of bullets fired from illegal weapons in weddings, funerals or simple individual disputes. Their only fault was that they were at the wrong place. Although the Parliament approved Law No.71/2016, which criminalizes air gunshots and penalizes shooters with an imprisonment from 6 months to 3 years or with a sentence of up to 10 years of hard labor and a fine ranging from 20 to 25 times the minimum wage (between LBP 13.5 million and LBP 16.8 million pounds) in case of death, the phenomenon has continued to grow, resulting in more victims.
According to media outlets and ISF reports, 81 deaths and 169 injuries have been reported during the years 2010-2021, i.e. an annual average of 7 deaths and 15 injuries as shown in the following table.
A table showing the number of stray bullet victims during 2010-September 20, 2021.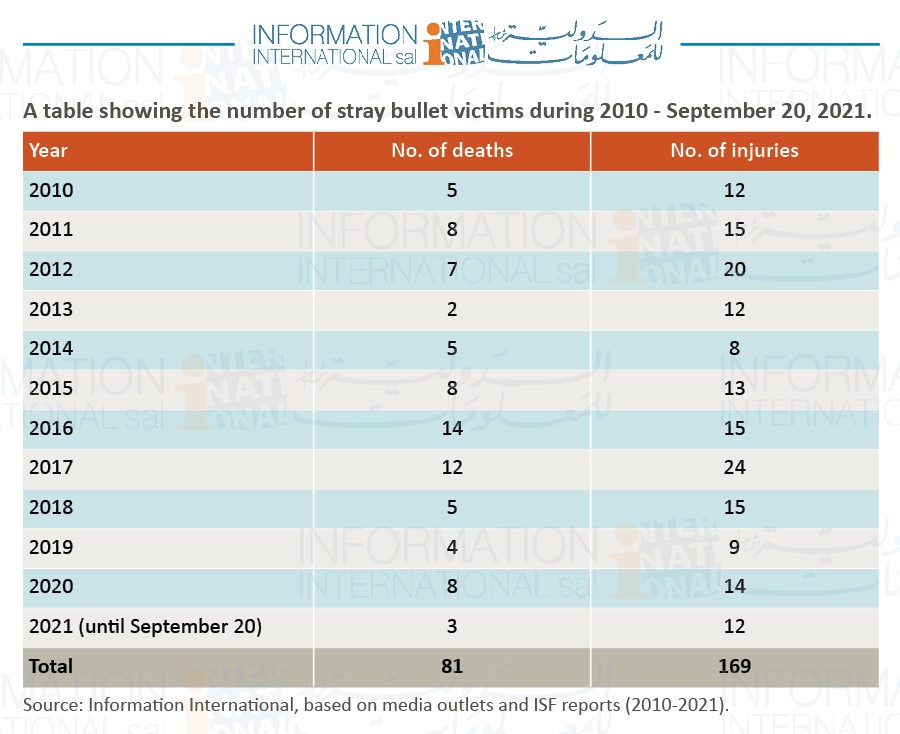 Source: Information International, based on media outlets and ISF reports (2010-2021).