220 political assassinations and murder attempts in Lebanon (1943-2021)
Perpetrators remain unknown
Luqman Slim's killing that came along talks about a new wave of assassinations has hearkened the Lebanese back to past years and decades, when Lebanon witnessed targeted murders and assassinations of many politicians, religious figures, intellectuals and journalists. The causes for each assassination differ from case to case, although they were all in the same vein. The Lebanese judicial system has investigated these crimes, save for the assassination of Prime Minister Rafik Hariri and the ancillary crimes that have been tried by the Special Tribunal for Lebanon. The Lebanese courts have, in some cases, reached conclusions based on concrete evidence. However, in other cases, the assassinations remain unsolved and the perpetrators remain unknown due to lack of evidence or to political intervention that prevented the courts from revealing the truth.
220 assassinations and murder attempts have been reported since Lebanon's 1943 independence until mid-February 2021. They are summed up as follows:
Assassinations: 125
Journalists: 19
The list of assassinations included 19 journalists and publishers, with the majority of them being killed for taking sides with one country against another in the conflicts that broke out in the region, particularly between Syria and Iraq or Iraq and Iran. Others have been victimized for doctrinal reasons.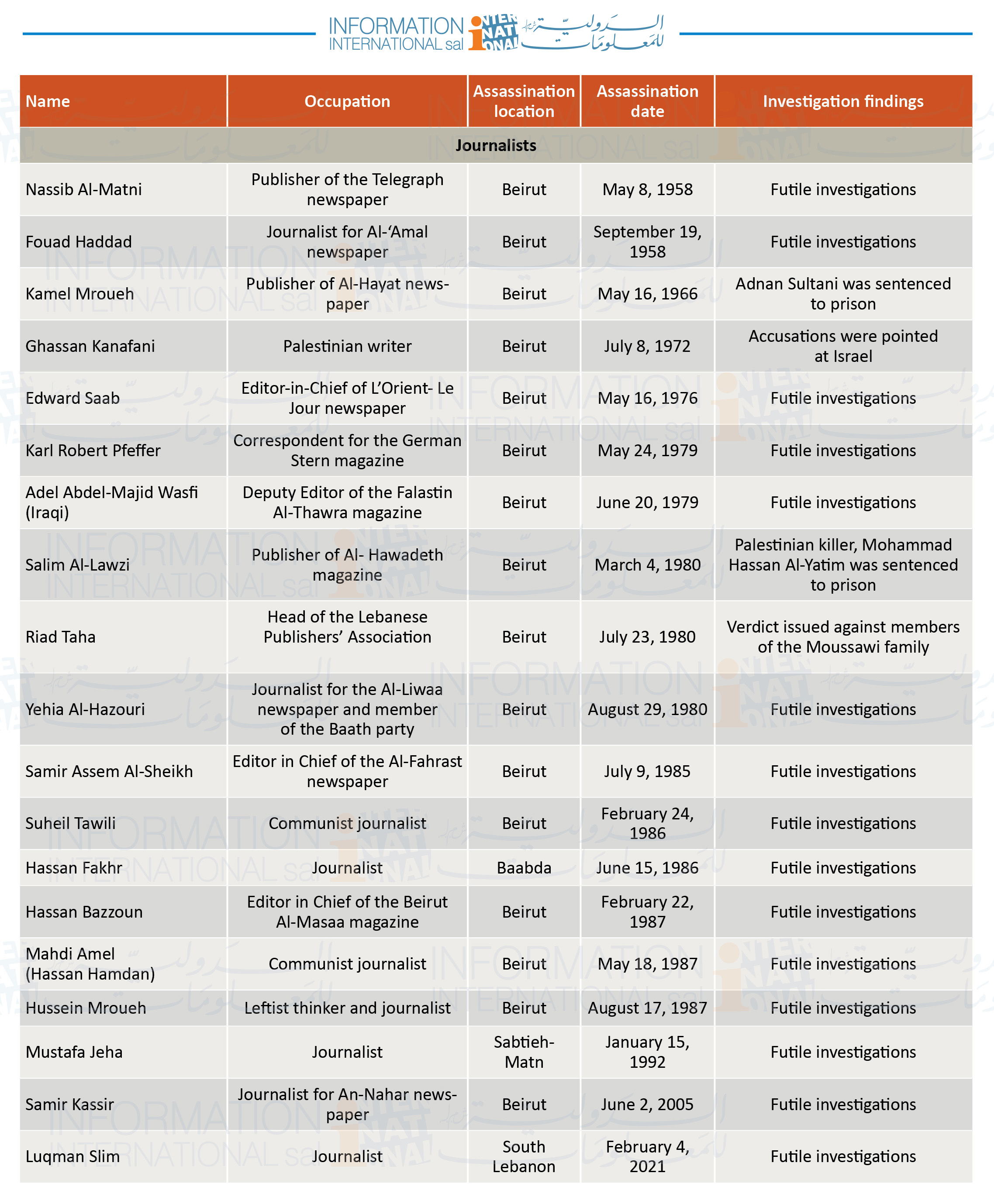 2-Religious figures: 18
A total of 18 religious figures have been assassinated since 1943, including Grand Mufti Sheikh Hassan Khaled and Sheikh Halim Taqiyeddine.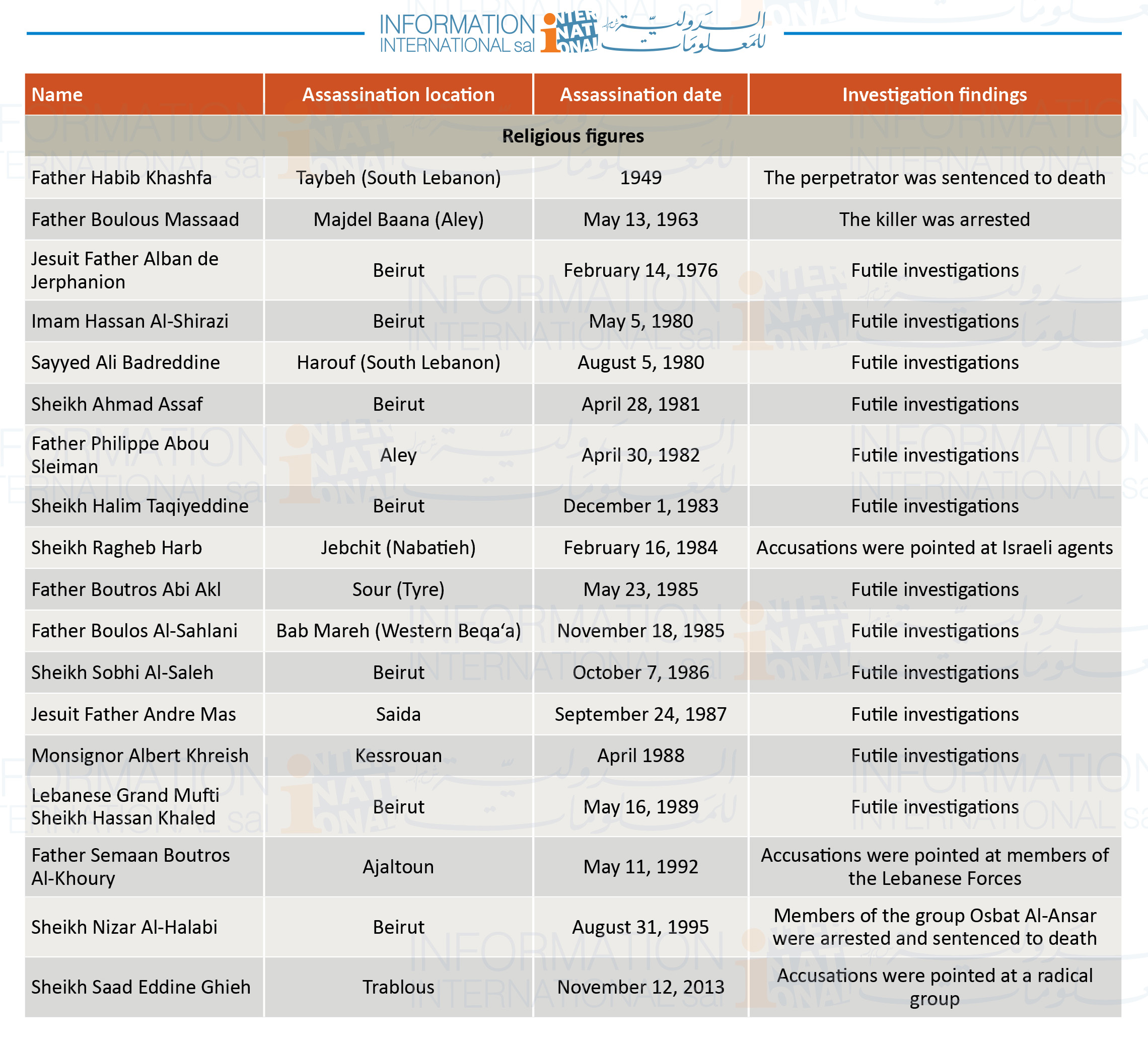 3- Politicians: 24
Politicians and administrators have been the main target for assassinations with a total of 24 assassinated figures including one president of the republic, 3 prime ministers and a number of ministers and MPs.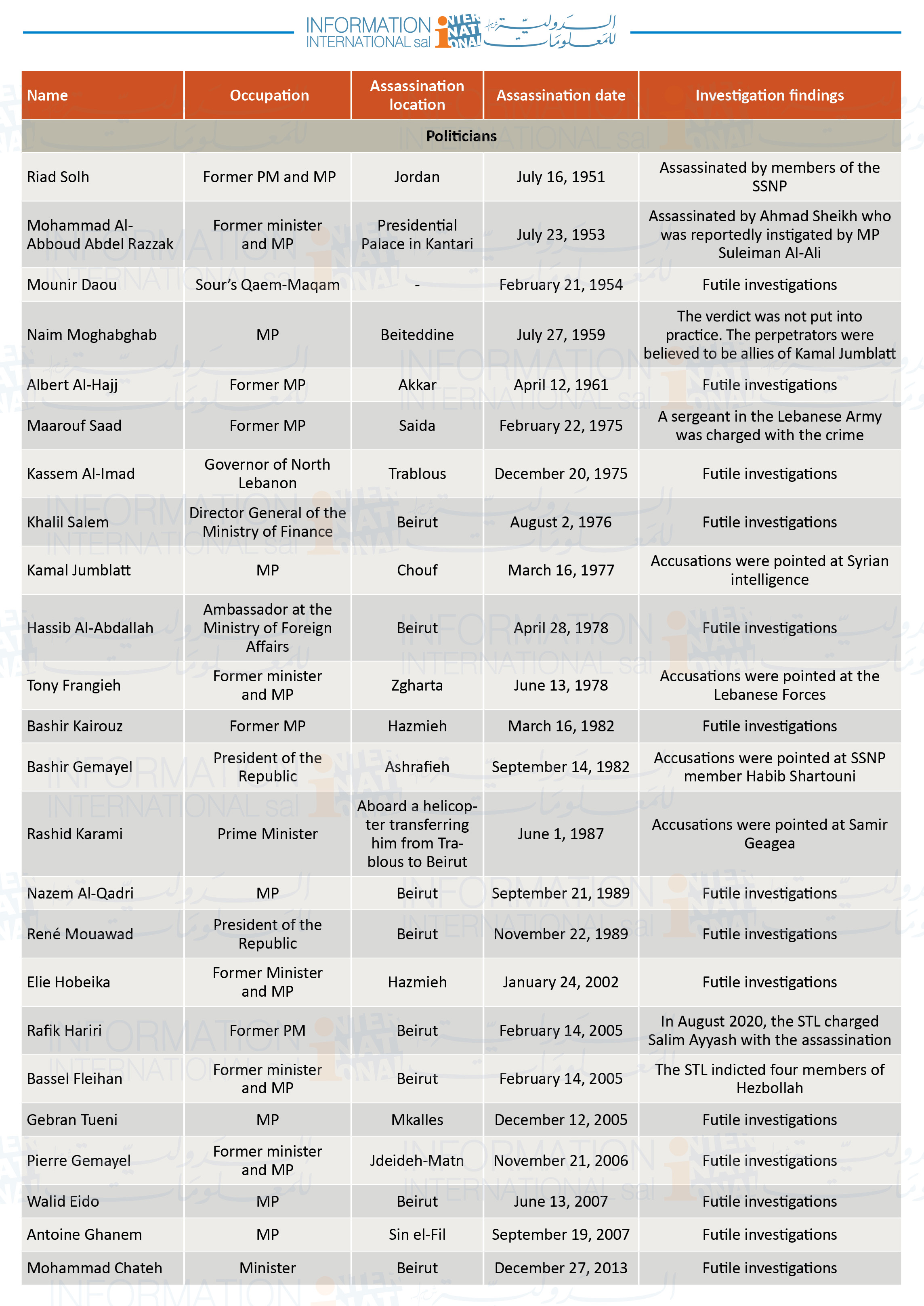 4- Party Members: 39
Other assassination operations have occurred in Lebanon targeting 39 figures, including party members and political activists as illustrated in the table below: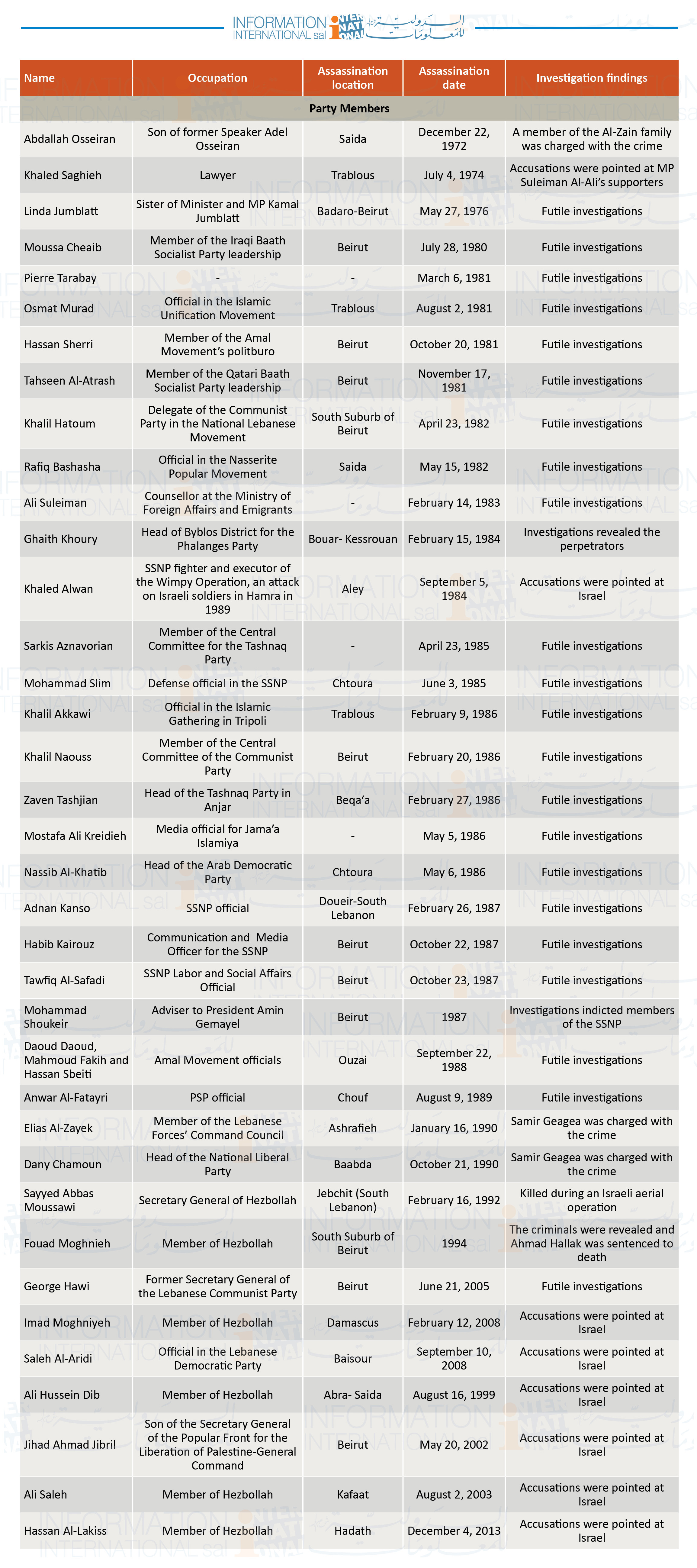 5- Military Officers: 4
Four members of the military fell also victim to assassination.

6-Judges: 4
Four judges were shot to death inside the South Lebanon Criminal Court in Saida on June 8, 1999: Hassan Othman, Imad Shehab, Walid Harmoush and Assem Bou Daher. The case was referred to the Judicial Council and a verdict was issued condemning members of Osbat al-Ansar.
7-Arab and Foreign Military Officers, Politicians and Diplomats: 17
The assassinations have also targeted 17 Arab and foreign figures, including diplomats, politicians, party leaders and military officers.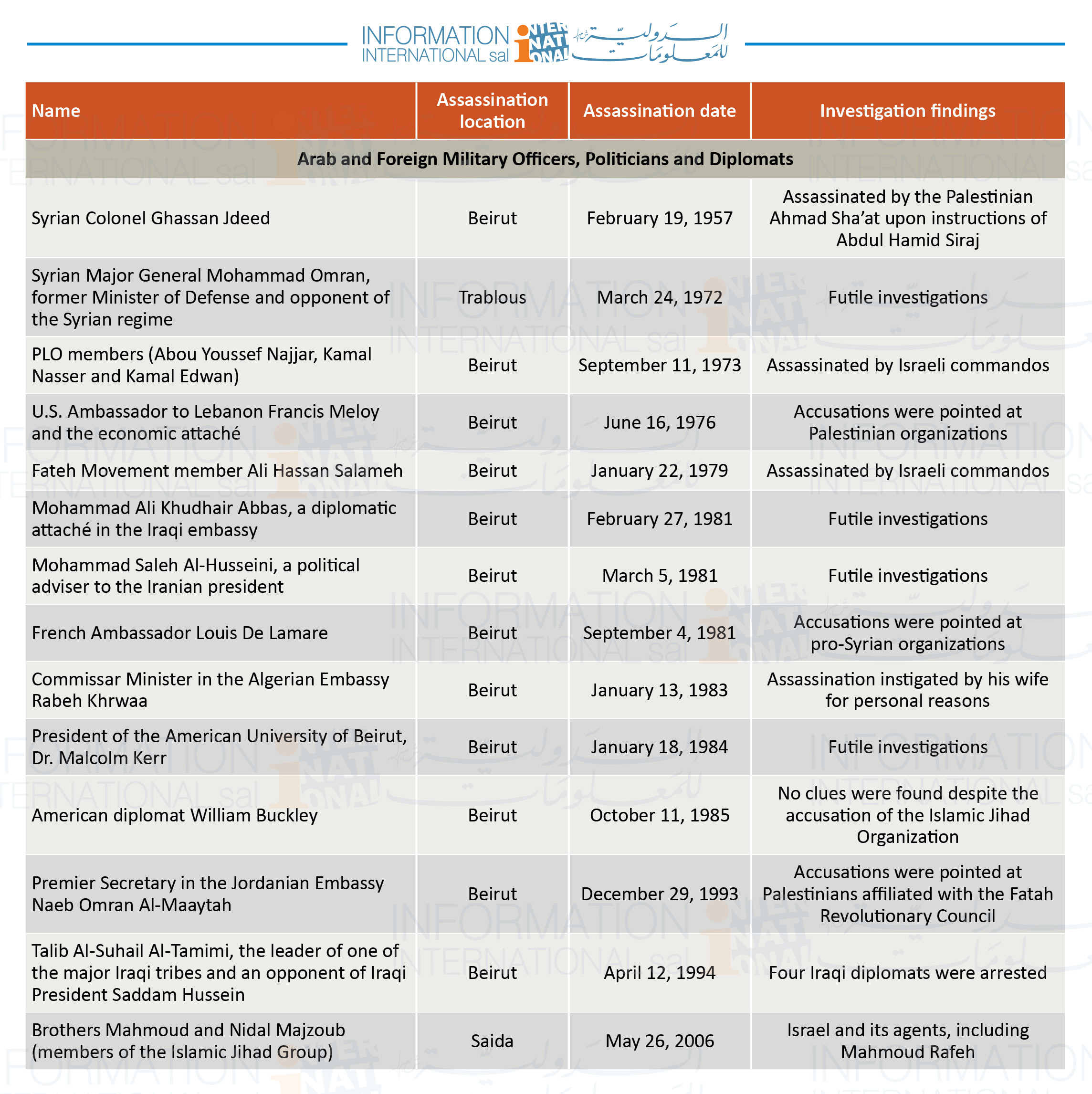 Murder Attempts: 95
In addition to the assassinations mentioned earlier, Lebanon has witnessed 95 murder attempts that targeted presidents, ministers, MPs, politicians, journalists, diplomats and clerics, most notably:
-Raymond Eddé (May 1976)
-Pierre Gemayel (several attempts, including the Ajaltoun one in June 1979)
-Amine Gemayel (Bikfaya, May 1979)
-Bachir Gemayel (Ashrafieh, February 1980)
-Walid Jumblatt (December 1, 1982)
-Salim El-Hoss (September 1984)
-Mostafa Saad (February 1985)
-Mohammad Hussein Fadlallah (March 8, 1985)
-Camille Chamoun (Several attempts, the latest on January 7, 1987)
-Michel Aoun (October 12, 1990)
-Michel Murr (March 20, 1991)
-Marwan Hamadeh (October 1, 2004)
-Elias Murr (July 12, 2005)
-May Chidiac (September 25, 2005)
Although the identity of the executors and instigators of these assassination plots was not difficult to predict in most cases, the investigations failed to gather any clues to bring those to justice and they remained unknown. With each new assassination, the Lebanese cling to the hope that the serial killing will come to an end but acts of violence continue to erupt dashing their hope and transforming Lebanon into a proxy battlefield where politicians and innocent people pay the price.
Notes:
- This report does not capture the assassinations and murder attempts against members of the Iraqi Ba'ath Party and Amal Movement occurring during the years 1980-1983.
-This report does not include the assassinations that were executed for personal reasons and that targeted people with no political or party affiliation, including, for example: the recent killings of photographer Joseph Bejjani in Kahala and retired customs officer Mounir Abou Rjeily, and the murder of politician and former head of Doctors' Syndicate Michel Salhab who was shot dead during a robbery attempt in his home in Rabieh on May 22, 1991.
Since our study covers a long time span (1943-2021), we may have inadvertently omitted some assassinations and murder attempts. The Monthly, therefore, welcomes any additions or comments.