AIN AL-ASSAD AND CHAMISS
PEOPLE FROM THE AL-KAZZI FAMILY
One of the small Lebanese villages and towns is Ain Al-Assad and Chamiss in the Qada'a of Shouf in (Iqlim Al-Kharroub).
Etymology
This village was called "Ain Al-Assad and Chamiss" for two reasons:
- "Chamiss" as its geographical location has made it "sunny" from the sunrise until sunset.
- "Ain Al-Assad" because a lion used to frequent its spring to drink water.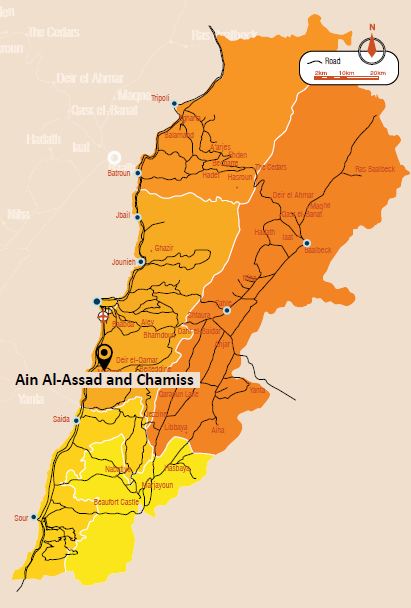 Location
Ain Al-Assad and Chamiss is located in the Qada'a of Shouf.
It is 35 kilometers from Beirut and may be reached from Beirut via Jiyeh to Barja and finally Ain Al-Assad. At 200 hectares, the town is small in area; it sits 350 meters above sea level.
Voters
In the 1972 elections, registered voters totaled 206, of whom only 146 cast ballots. Their number rose to 421 in 2009, with 185 voters exercising their voting rights. As for the 2018 elections, 496 were registered, of whom only 215 cast ballots. The overwhelming majority of voters are Maronite from the Al-Kazzi family, in addition to 11 voters from the Orfali family (Armenian Orthodox and Catholic).
Population and Houses
Ain Al-Assad and Chamiss has around 100 houses, but most of them are vacant as many live in Beirut.
Local Authorities
There is no municipality in Ain Al-Assad and Chamiss. Local authorities are limited to the mayor.
Economic Life
Cultivation, especially of olives, is the main source of income. The majority of the population lives outside the village due to the lack of local employment opportunities.