Higher Relief Council Spends as Much as Six Ministries Combined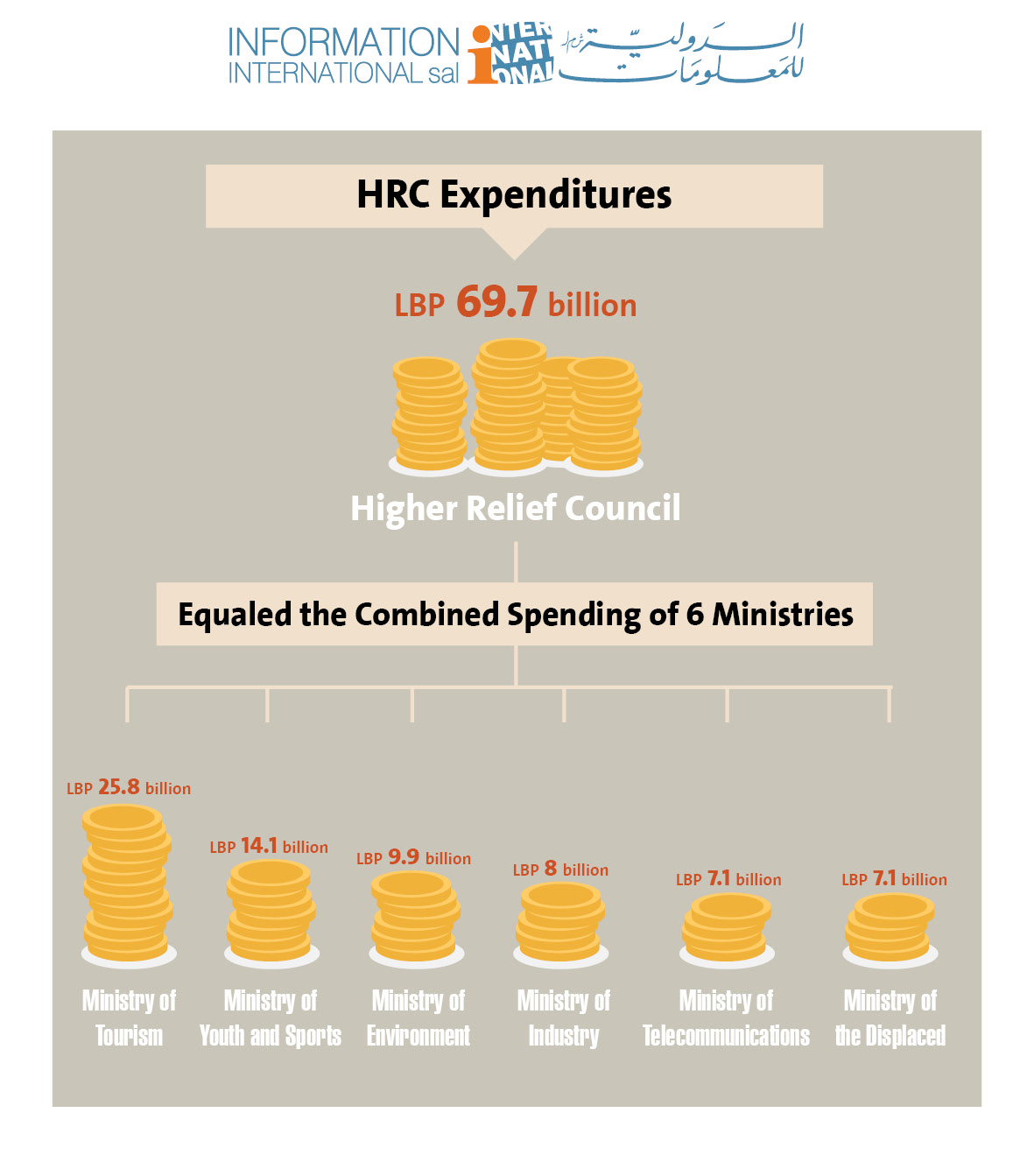 The Higher Relief Council (HRC) was established during the Lebanese civil war to deal with emergencies and urgent matters that take too much time to be accomplished when handled by the ministries and public administrations. Despite the passage of nearly three decades since the end of war, the Council is still operating. It might expand its scope of work to include nonurgent matters and spend millions of pounds on projects that are at the core of ministries' work. As shown in Table No.1 below, in 2017 the Council received a treasury loan worth LBP 69.7 billion. The problem is that the Council's work is not subject to the Audit Bureau's prior review; works are awarded by mutual consent under the pretext of expedience. This leads to squandering public finances, marginalizing ministries and public administrations' roles, and bypassing laws and regulations. Therefore, it is time to terminate the Council and return the powers and functions to the ministries and administrations. If some consider the Council's expenditures modest, they are not. Its 2017 expenditures (LBP 69.7 billion) equaled the combined spending of six ministries, namely the Ministry of Telecommunications (LBP 7.1 billion), the Ministry of Environment (LBP 9.9 billion), the Ministry of Agriculture (LBP 8 billion), the Ministry of Youth and Sports (LBP 14.1 billion), the Ministry of the Displaced (LBP 7.1 billion), and the Ministry of Tourism (LBP 25.8 billion).
Table No. 1: Treasury loans received by the HRC in 2017.
Decree No.

Date of decree

Loan value (LBP)

Purpose

1256

24-8-2017

45.225 billion

Implementing development projects in Arsal and its surrounding areas, the amount to be distributed equally between the city and its environs.

1193

3-8-2017

21.453 billion

Enabling the Council to cover the cost of several road, landslide, and building restoration projects in Beirut, which fall within the Ministry of Public Works and Transport's purview.

1099

18-7-2017

2.384 billion

Enabling the Council to cover the cost of updating works and to prepare the documents of properties (houses, stores,….) in Ain Al-Hilweh, Old Saida, and Mieh Mieh

1554

10-10-2017

600 million

Restoring the waste sorting plant in Baalbeck.

31

9-1-2017

80 million

Providing financial assistance to Mr. Abbas
Chehab in order to compensate for his house in Brital that was damaged by shelling from the Anti-Lebanon Mountains.

687

16-5-2017

11.6 million

The sum was donated by the Embassy of the Czech Republic to Lebanon and was allocated to improve the housing conditions of Lebanese families displaced from Tufail and sheltering in Baalbeck and Mount Lebanon

Total

-

69.753 billion

-
Source: The Official Gazette.