Hunting is the hobby of many Lebanese citizens, political Zua'ama, artists, and businessmen. Laws and regulations only authorize the hunting of certain species of birds within a specified time period, yet it is widely practiced when there is no control and when it takes place in remote areas far from security forces.
As hunting is booming despite being prohibited, the number of hunting shops across Lebanon is increasing. The owners seek to renew their permits to avoid closing their shops in view of business growth. Some people are addicted to this hobby and cannot stop practicing it, whatever the financial and legal obstacles and difficulties may be.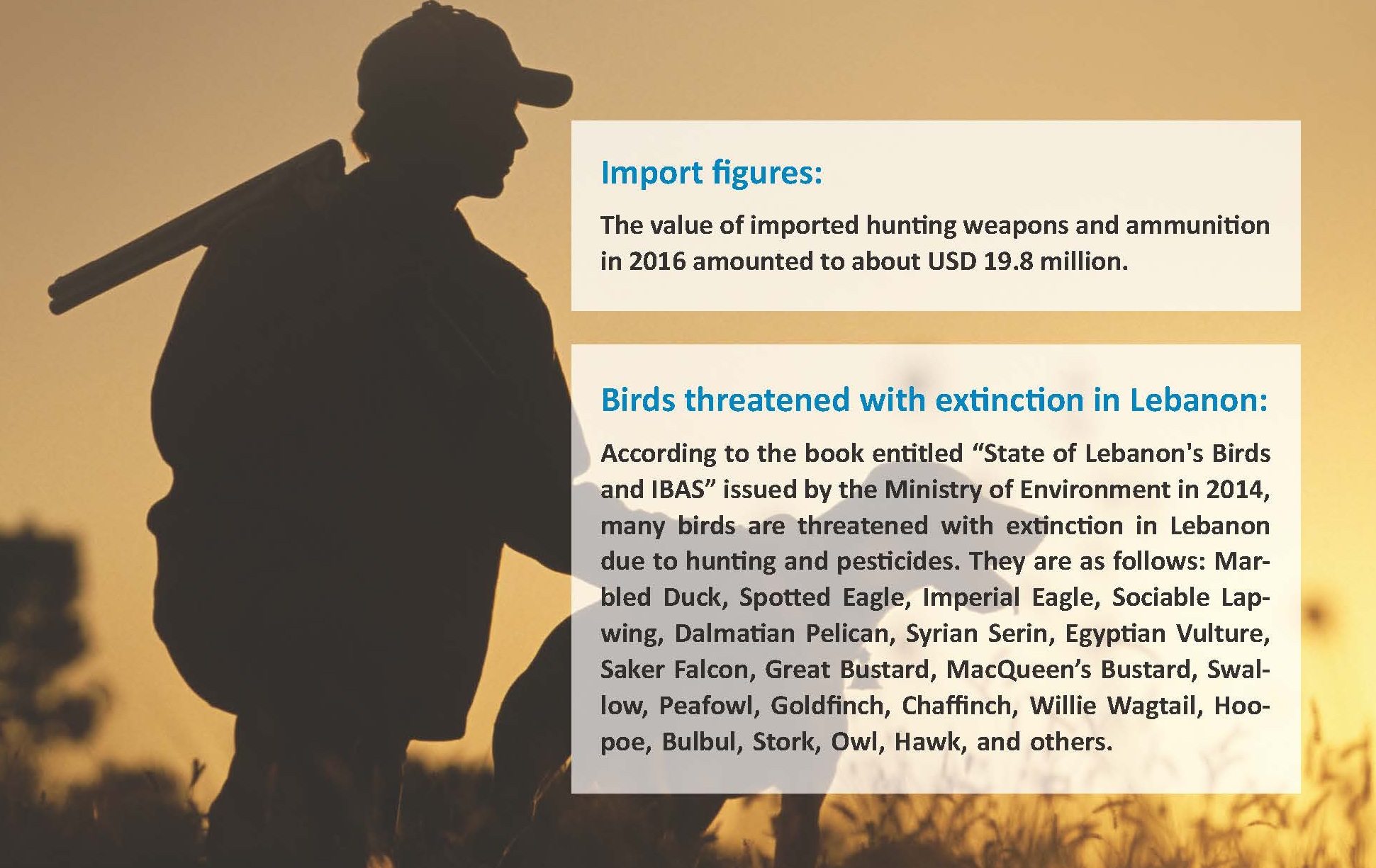 Permits
Legislative Decree No. 137 of June 12, 1969, and its amendments (Weapons and Ammunition Law), especially Article 3 thereof, stipulates: "No natural or legal person may carry out on Lebanese territory any form of manufacture or trade relating to any class of material, arms, or ammunition without having first obtained a legal permit that shall be issued at the discretion of the Ministers of Interior and National Defense. The application for a permit shall be submitted to the Ministry of Interior and Municipalities."
Renewal of Permits
Just like every year, the flourishing sales of hunting weapons and ammunition led shop owners to renew their permits or obtain new ones in 2016. The number of new and renewed permits reached 155, distributed as shown in Table 1 below:
Table No. 1: Renewal or issuance of new permits for trading in hunting weapons and ammunition in 2016.
Permit Type

Owner
Location
Store or company name
Matn Qada'a
Renewal of two permits for trading in hunting weapons and ammunition and selling hunting gunpowder by retail

-

Antelias
Josons Company
Renewal of permit for trading in hunting weapons and ammunition

-

Bourj Hammoud
National Sport Company
Renewal of permit for trading in hunting weapons and ammunition

-

Bourj Hammoud
Sports & Hunting Est.
Renewal of permit for trading in hunting weapons and ammunition
Joseph Gergi Abi Saab
Dabayeh
Brescia Middle East
Renewal of permit for trading in hunting weapons and ammunition
Roger Georges Salibi
Beit Al-Chaar
Roger Georges Salibi
Renewal of two permits for trading in hunting weapons and ammunition and selling hunting gunpowder by retail
Diab Bros
Jal Al-Deeb
Diab Bros Company
Renewal of permit for trading in hunting weapons and ammunition
Raymond Abi Nader
Sin Al-Fil
Est. Raymond Abi Nader
Renewal of permit for trading in hunting weapons and ammunition

-

Dekwaneh
Farid Gerges Haddad
Renewal of two permits for trading in hunting weapons and ammunition and selling hunting gunpowder by retail

-

Dora
Jean & Aram Nazarian (Nazarian Bros)
Renewal of permit for trading in hunting weapons and ammunition
Rabih Adel Kashaami
Ain Al-Qash
Rabih Adel Kashaami
Renewal of permit for trading in hunting weapons and ammunition

-

Sin Al-Fil

Est. Milad Wadih Nassif
Renewal of permit for trading in hunting weapons and ammunition
Elie Anis Abou Zeid
Mazraat Yachouh
Heroes Trading
A permit for trading in hunting weapons and ammunition
Bechara Toufic Baakline
Dhour Al-Choueir
Sports & Hunting Est.
Renewal of permit for trading in hunting weapons and ammunition
Shadi Rashed Kharrat
Wata Al-Mrouj
Hunting & Camping
Renewal of permit for trading in hunting weapons and ammunition

-

Sin Al-Fil
Khalil Fattal et Fils S.A.L.
Permit Type
Owner
Location
Store or company name
Renewal of two permits for trading in hunting weapons and ammunition and selling hunting gunpowder by retail
Victor Youssef Chalhoub
Jdeideh
Victor Youssef Chalhoub
Renewal of permit for trading in hunting weapons and ammunition

-

Zalka
Mezher Group S.A.R.L.
Renewal of permit for trading in hunting weapons and ammunition
Rafik Ofeich
Antelias
Center Ofeich Rafik Ofeich
Renewal of permit for trading in hunting weapons and ammunition

-

Dhour Al-Choueir
Ofeich-Raed Lebanon
Renewal of permit for trading in hunting weapons and ammunition that until 31-12-2014
Choukrallah Chahine Abi Nader
Dekwaneh
Choukrallah Chahine Abi Nader
Renewal of permit for trading in hunting weapons and ammunition
Elie Mezher
Zalka
Mezher Group
Zahle Qada'a
A five-year permit renewal for a hunting-cartridge packing factory
Nicolas and Georges Assi
Touaite
Mira Company
Renewal of permit for trading in hunting weapons and ammunition
Mahmoud Youssef Al-Kahl
Ryak
Mahmoud Youssef Al-Kahl
Renewal of permit for trading in hunting weapons and ammunition
Kassem Ghoussoub Metta
Bar Elias
Kassem Ghoussoub Metta
Renewal of two permits for trading in hunting weapons and ammunition and selling hunting gunpowder by retail
Joseph Ramia
Jdita
Joseph Ramia & Co
Renewal of permit for trading in hunting weapons and ammunition
Zouheir Saad Kassem Hassan
Ryak
Zouheir Said Kassem Hassan
Renewal of permit for trading in hunting weapons and ammunition
Nicolas & Georges Assi
Jdita
Nicolas & Georges Assi
Renewal of two permits for trading in hunting weapons and ammunition and selling hunting gunpowder by retail
Wahid Al-Ghossein
Zahle
Wahid Joseph Al-Ghossein
Renewal of permit for trading in hunting weapons and ammunition

-

Jdita
Ofeich-Raed Lebanon
Renewal of two permits for trading in hunting weapons and ammunition and selling hunting gunpowder by retail
Rafik Karim Ofeich
Jdita
Rafik Karim Ofeich
A factory for filling hunting cartridges
Toufic Joseph Ramia
Zahle
Toufic Ramia
Renewal of two permits for trading in hunting weapons and ammunition and selling hunting gunpowder by retail
Najwa Abi Fakhreddine

Mreijat

Najwa Abi Fakhreddine
Renewal of permit for trading in hunting weapons and ammunition

-

Jdita
Mirage-Ramia Bros
Renewal of two permits for trading in hunting weapons and ammunition and selling hunting gunpowder by retail
Elias Aziz Assi
Jdita
Elias Aziz Assi
Renewal of permit for trading in hunting weapons and ammunition
Hassan Abou Hamdan
Maalaka
La Chasse
Renewal of permit for trading in hunting weapons and ammunition

-

Bwarej
Elie Ofeich & Sons-Janat
Al-Sayad
Permit Type
Owner
Location
Store or Company Name
Renewal of permit for trading in hunting weapons and ammunition

-

Zahle
Ofeich-Raed Lebanon
Renewal of two permits for trading in hunting weapons and ammunition and selling hunting gunpowder by retail
Tony Karim Ofeich
Jdita
Victory Land
Renewal of permit for trading in hunting weapons and ammunition
Elias Ibrahim Roufayel
Zahle
Elias Ibrahim Roufayel
Renewal of permit for trading in hunting weapons and ammunition
Ali Deeb Dandash
Ferzol
Ali Deeb Dandash
Kessrouan Qada'a
A five-year permit for a hunting-cartridge packing factory
Youssef, Amin, and Sari Al-Adam
Hrajel
Chochel Factory Company
Renewal of two permits for trading in hunting weapons and ammunition and selling hunting gunpowder by retail

-

Ghadir
Abi Semaan Joseph Sons Trading Company
Renewal of permit for trading in hunting weapons and ammunition
Nazih & Marwan Joseph Abi Semaan
Ghadir
Shoot Company
Renewal of permit for trading in hunting weapons and ammunition

-

Sarba
Diab Bros Company
Renewal of permit for trading in hunting weapons and ammunition
Georges Joseph Smia
Jouret Al-Termos
Georges Smia Trading Est.
Renewal of permit for trading in hunting weapons and ammunition
Joseph Gergi Abi Saab
Ghadir
Brescia Middle East
Renewal of permit for trading in hunting weapons and ammunition
Ibrahim Georges Ibrahim
Safra
Est. Ibrahim I&S
Renewal of permit for trading in hunting weapons and ammunition

-

Haret Sakher
Discovery Company
Renewal of permit for trading in hunting weapons and ammunition
Leila Elias Naim Nahra
Zouk Mikael
Leila Elias Naim Nahra
Renewal of permit for trading in hunting weapons and ammunition
Retired Brigadier General Pierre Hajji Georgio
Faraya
Est. Petroco
Renewal of permit for trading in hunting weapons and ammunition
Daoud Fares Moubarak
Kfardebian
Daoud Fares Moubarak
Renewal of permit for trading in hunting weapons and ammunition
Khalil Antonios Kamel
Jouret Bedran
Khalilco
Renewal of permit for trading in hunting weapons and ammunition
Paul Emile Zeitoun
Zouk Mikael
Spy Land
Renewal of permit for trading in hunting weapons and ammunition
Karim Elie Ofeich
Sarba
Ofeich-Diwan Al-Sayad
Renewal of permit for trading in hunting weapons and ammunition
Nazih & Marwan Joseph Abi Semaan
Ghadir
Fire Company
Renewal of permit for trading in hunting weapons and ammunition until 31-12-2014
Roger Jean Oudeimi
Sarba
Transparence
Akkar Qada'a
Renewal of permit for trading in hunting weapons and ammunition
Kassem Muhammad Kanso
Bakarzala
Elias Sarkis Al-Ahmar
Renewal of permit for trading in hunting weapons and ammunition
Walid Bahaeddine Zakaria
Takrit
Walid Bahaa Al-Deen Zakaria
Permit Type
Owner
Location
Store or Company Name
Renewal of permit for trading in hunting weapons and ammunition
Milad Youssef Abboud
Aidamoun
Abboud Establishment for Hunting Ammunition and General Trade
Renewal of permit for trading in hunting weapons and ammunition
Habib Ibrahim Al-Wared
Bazbina
Habib Ibrahim Al-Wared
Renewal of permit for trading in hunting weapons and ammunition
Bassam Hamid Makhoul
Rahbe
Bassam Hamid Makhoul
Renewal of permit for trading in hunting weapons and ammunition
Imad Elie Ofeich
Al-Muhammara
Est. Rihab Al-Sayyad
Renewal of permit for trading in hunting weapons and ammunition
Iman Abdelhamid Salmi
Al-Muhammara
Iman Abdelhamid Salmi
Renewal of permit for trading in hunting weapons and ammunition
Youssef Ibrahim Habib
Al-Krayyat
Al-Shahrour Stores
Renewal of permit for trading in hunting weapons and ammunition
Muhammad Yahi Khalil
Berkayel
Muhammad Yahi Khalil
Renewal of permit for trading in hunting weapons and ammunition
William Farid Abi-Elias
Miniara
William Farid Abi-Elias
Renewal of permit for trading in hunting weapons and ammunition
Amer Muhammad Abdullah Dandash
Wadi Khaled
Muhammad Abdullah Dandash
Renewal of permit for trading in hunting weapons and ammunition
Muhammad Yahi Khalil
Berkayel
Muhammad Yahi Khalil
Baalbeck Qada'a
Renewal of two permits for trading in hunting weapons and ammunition and selling hunting gunpowder by retail
Ali Hussein Allam
Tamnin Al-Tahta
Ali Hussein Allam
Renewal of permit for trading in hunting weapons and ammunition
Hazem Deeb Dandash
Labwe
King Tiger Company
Renewal of the permit and transferring it from Aley to its current location
Hazem Deeb Dandash
Britel
King Tiger Company
Renewal of permit for trading in hunting weapons and ammunition
Ali Deeb Danash
Chmestar
Al-Momayaz
Renewal of permit for trading in hunting weapons and ammunition
Yakzan Abdallah Al-Zein
Baalbeck
Abo Al-Zein
Renewal of permit for trading in hunting weapons and ammunition
Ali Hassan Mazloum
Britel
Est. Al-Manara for Trading and Hunting Weapons
Renewal of permit for trading in hunting weapons and ammunition
Bilal Hassan Nasrallah
Baalbeck
Bilal Hassan Nasrallah
Renewal of permit for trading in hunting weapons and ammunition
Ali Samaha
Douris
Tiger Morse Est.
Renewal of permit for trading in hunting weapons and ammunition
Emile Youssef Salloum
Al-Qaa
Laura Est. for hunting guns and cartridges
Renewal of permit for trading in hunting weapons and ammunition

-

Baalbeck
Zeina Raad Stores
Renewal of permit for trading in hunting weapons and ammunition
Ali Khaled Bayan
Baalbeck
Ali Khaled Bayan
Renewal of permit for trading in hunting weapons and ammunition
Georges Deeb Al-Lakis
Ras Baalbeck
Georges Deeb Al-Lakis
Permit Type
Owner
Location
Store or Company Name
Shouf Qada'a
Renewal of permit for trading in hunting weapons and ammunition
Naji Nassib Hassan
Bakaata
Naji Nassib Hassan
Renewal of permit for trading in hunting weapons and ammunition
Walid Ramez Yassine
Barjin
Walid Ramez Yassine
Renewal of permit for trading in hunting weapons and ammunition
Hussam Muhammad Abbass
Daraya
Al-Hussam General Trading
Renewal of permit for trading in hunting weapons and ammunition
Raghida Abou Abdallah
Damour
La Chasse
Renewal of permit for trading in hunting weapons and ammunition
Mahmoud Darwich
Chehim
Mahmoud Darwich
Renewal of permit for trading in hunting weapons and ammunition
Fatima Hamza
Aanout
Malika General Trading
Renewal of permit for trading in hunting weapons and ammunition
Wahid Abdelkarim Kassem
Mazboud
Wahid Abdelkarim Kassem
Renewal of permit for trading in hunting weapons and ammunition
Sanaa Muhammad Aamer
Daraya
Sanaa Muhammad Aamer
A permit for trading in hunting weapons and ammunition
Salim Hassan Kahoul
Barja
Kahoul for Foodstuffs
A permit for trading in hunting weapons and ammunition
Fahed Mahmoud Arnous
Semkanieh
Al-Wissam Trading & Industrial Est.
Renewal of permit for trading in hunting weapons and ammunition
Ajwad Abou Hamdan
Gharifeh
Super Sniper
Renewal of permit for trading in hunting weapons and ammunition
Ghassan Adib Attallah
Rmeileh
Eddy Marine
Baabda Qada'a
Renewal of permit for trading in hunting weapons and ammunition

-

Hadath
Mario Antoine Abboud
Renewal of permit for trading in hunting weapons and ammunition
Ali Salim Saraeb
Bourj Al-Barajneh
Est. Hunt Store
Renewal of permit for trading in hunting weapons and ammunition
Hassan Deeb Al-Harake
Hadath
Deeb Al-Harake Est.
Renewal of permit for trading in hunting weapons and ammunition
Hassan Deeb Al-Harake
Bourj Al-Barajneh
Deeb Al-Harake Est.
Renewal of permit for trading in hunting weapons and ammunition
Ali & Mia Hassan Fayyad
Chiah
Fayyad Sport S.A.R.L.
Renewal of two permits for trading in hunting weapons and ammunition and selling hunting gunpowder by retail
Pierre Georges Aziz
Chiah
Al-Nisr Al-Zahabi Est.
Renewal of permit for trading in hunting weapons and ammunition

-

Chiah
Haidar International Company S.A.R.L.
Renewal of permit for trading in hunting weapons and ammunition

-

Btekhnay
Super Hunters
A permit for trading in hunting weapons and ammunition
Hassan Hassan Maatouk
Chiah
Prince Orient Est.
Permit Type
Owner
Location
Store or Company Name
Aley Qada'a
A five-year permit renewal for a hunting-cartridge packing factory

-

Bkhechtay
Middle East Record Company
Renewal of permit for trading in hunting weapons and ammunition
Nabil Toufic Shaya
Aley
Est. Gladiator
Renewal of permit for trading in hunting weapons and ammunition
Zaher Naaman Bou Najem
Aley
SISA Company
Renewal of permit for trading in hunting weapons and ammunition

-

Charoun
Hunters Legends S.A.R.L.
Renewal of permit for trading in hunting weapons and ammunition
Georges Elias Hanna
Bhamdoun Al-Dayaa
Georges Elias Hanna
Renewal of permit for trading in hunting weapons and ammunition

-

Choueifat
Fayyad Store Group
Renewal of permit for trading in hunting weapons and ammunition
Ali Jadallah Nasser
Remhala
JA Hunter
Renewal of permit for trading in hunting weapons and ammunition

-

Ramhala
Al-Matar General Trading
Beirut Qada'a
Renewal of permit for trading in hunting weapons and ammunition

-

Corniche Al-Nahr
Mercantile Trading Company
Renewal of permit for trading in hunting weapons and ammunition
Kassem Muhammad Kanso
Bachoura
Kassem Muhammad Kanso
Renewal of permit for trading in hunting weapons and ammunition
Fawzi Gerges Al-Khoury
Ashrafieh
Fawzi Gerges Al-Khoury
Renewal of permit for trading in hunting weapons and ammunition
Joe Edward Al-Debes
Rmeil
Joe Edward Al-Debes
Renewal of permit for trading in hunting weapons and ammunition
Anis Toufic Sinno
Moussaitbeh
Sinno Sport
Renewal of permit for trading in hunting weapons and ammunition

-

Moussaitbeh
Société Fayoumi
Renewal of permit for trading in hunting weapons and ammunition
Fadi Koleilat
Beirut
Fadi Koleilat
Jbeil Qada'a
A new permit for trading in hunting weapons and ammunition
Kamal Suleiman Saad
Jbeil
Saad Hunting
Renewal of permit for trading in hunting weapons and ammunition
Sanaa Muhammad Aamer
Jbeil
Nemer Adib Bassil
A permit for trading in hunting weapons and ammunition
Maurice Hanna Al-Zaghandi
Jbeil
Chasse et Pêche
Renewal of permit for trading in hunting weapons and ammunition
Raymond Boutros Sakr
Amchit
Raymond Boutros Sakr
Renewal of permit for trading in hunting weapons and ammunition until 31-12-2014
-
Al-Fidar
Est. Williams
Renewal of permit for trading in hunting weapons and ammunition
Sami Fouad Nassar
Jbeil
Sami Fouad Nassar
Permit Type
Owner
Location
Store or Company Name
Saida Qada'a
Transfer of permit and acquisition of a new permit for trading in hunting weapons and ammunition
Khaled Saadeddine Al-Issawi
Saida
Est. Al-Issawi
Renewal of permit for trading in hunting weapons and ammunition
Elizabeth Youssef Tannous
Maghdouche
Marlo Est.
Renewal of permit for trading in hunting weapons and ammunition
Ali Abbass Hamieh
Kfarhata
I.C.M.E.
Renewal of permit for trading in hunting weapons and ammunition
Ibrahim Khalil Daher
Saida
Ibrahim Khalil Daher
Renewal of permit for trading in hunting weapons and ammunition

-

Ghazieh
Mokil for Hunting and Fishing-Mokil & Partners
Sour Qada'a
Renewal of permit for trading in hunting weapons and ammunition

-

Chehabieh
Kassem Muhammad Kanso
Renewal of permit for trading in hunting weapons and ammunition
Fouad Muhammad Ezzeddine
Sour
Fouad Muhammad Ezzeddine
Renewal of permit for trading in hunting weapons and ammunition
Imad Kassem
Abbassieh
Imad Kassem Trading Store
Renewal of permit for trading in hunting weapons and ammunition
Ali Ahmad Nazzal
Srifa
Nazzal General Trading Est.
Renewal of permit for trading in hunting weapons and ammunition
Adel Hassan Al-Ajami
Deir Aanoun Al-Nahr
Al-Ajami for Hunting & Fishing
Koura Qada'a
Renewal of permit for trading in hunting weapons and ammunition

-

Amioun
Germanos Company
Renewal of permit for trading in hunting weapons and ammunition
Nasser Abdelsalam Yassine
Ras Maska
Nasser Abdelsalam Yassine
Renewal of permit for trading in hunting weapons and ammunition
Rani Fouad Al-Hawi
Amioun
Rani Fouad Al-Hawi
Renewal of permit for trading in hunting weapons and ammunition
Claude Edmond Mansour
Aaba
Samsat 76
Jezzine Qada'a
Renewal of permit for trading in hunting weapons and ammunition
Bechara Bechara Khaled
Jezzine
Bechara Bechara Khaled
Renewal of permit for trading in hunting weapons and ammunition
Charbel Elias Dagher
Lebaa
Dagher General Trading
Renewal of permit for trading in hunting weapons and ammunition
Rachid Joseph Nassif
Roum
Asrar Al-Sayad
Mennieh-Dennieh
Renewal of permit for trading in hunting weapons and ammunition
Samih Ahmad Alameddine
Mennieh-North Lebanon
Samih Ahmad Alameddine
Permit Type
Owner
Location
Store or Company Name
Renewal of permit for trading in hunting weapons and ammunition
Abdel-Wahab Jida
Aassoun
Abdel-Wahab Jida
Renewal of permit for trading in hunting weapons and ammunition
Ahmad Toufic Allam
Mrah Al-Sraj
Ahmad Toufic Allam
Trablous Qada'a
A permit for trading in hunting weapons and ammunition
Hassan Hekmat Hakam
Al-Mina
Hakam Outdoor
Renewal of permit for trading in hunting weapons and ammunition
Muhieddine Al-Khayyat
Trablous
Muhammad Muhieddine Al-Khayyat
Zgharta Qada'a
Renewal of permit for trading in hunting weapons and ammunition
Saadallah Abboud Abdel-Massih
Mejdlaya
Saadallah Abboud Abdel-Massih
Renewal of permit for trading in hunting weapons and ammunition
Tony Elias Fawzi
Mejdlaya
Tony Elias Fawzi
Rashaya Qada'a
Renewal of permit for trading in hunting weapons and ammunition
Imad Salim Merham
Dahr Al-Ahmar
Imad Salim Merham
A new permit for trading in hunting weapons and ammunition

-

Dahr Al-Ahmar
Est. Abou Mansour for General Trading
Bint Jbeil Qada'a
Renewal of permit for trading in hunting weapons and ammunition
Hassan Hussein Hammoud
Tebnin
Hammoud Trading Est.
Renewal of permit for trading in hunting weapons and ammunition
Ahmad Diab Mansour
Aitaroun
Ahmad Diab Mansour
Western Beqa'a Qada'a
Renewal of permit for trading in hunting weapons and ammunition
Alaa Salim Abdelbaki
Jib Jenin
Delta Sport Co.
Renewal of permit for trading in hunting weapons and ammunition
Elie Georges
Kefraya
Master Duck
Hasbaya-Nabatieh-Batroun
Renewal of permit for trading in hunting weapons and ammunition
Imad Omar Abou Saleh
Hasbaya
Imad Omar Abou Saleh
Renewal of permit for trading in hunting weapons and ammunition
Fayez Hussein Salloum
Kaakaiyet Al-Jisr
Fayez Hussein Salloum
Renewal of permit for trading in hunting weapons and ammunition
Caesar Suleiman Abi Badra
Chekka
Caesar Suleiman Abi Badra