​
Zakroun is one of the small villages in Koura district. Its entire people are Maronite while the majority of the district's residents are Orthodox.
Etymology

In the book of the names of Lebanese cities and villages and the interpretation of their meanings, the author Anis Freiha considers it probable the name "Zakroun" is transliterated from the Hebrew word "Zikkaron" that means "Eid" or derived from the roots of the word "ZEGHAR" meaning a fortress or a barricade, i.e. an enclosed place where everyone can fortify himself.
Location

Zakroun is located in the district of Koura at an altitude of about 120 meters above sea level. It is spread across an area of 225 hectares, 70 km away from the capital Beirut.
It is bordered by Fiaa, Anfeh, Qilhat villages and can be reached via Enfeh-Zakroun.
Population

The registered population is estimated at about 370 in the personal status records of the village. The residents are Maronite and the number of dwellings is about 60.
Voters

The number of registered voters was 227 in the 2000 election. It rose to 247 in 2009 and reached 261 in 2016.
Voters are distributed among the following families:
Al-Alam: 53 voters
Fayad: 35 voters
Al-Ghulam: 25 voters
Al-Helou: 23 voters
Finianos: 20 voters
Ghanem: 20 voters
Other families are: Zaiter, Sarkis, Chehade, Menem, Chedid, Milan, Abbas, and Nasr.
Local Authorities

Until 2016, the local authorities are confined to the Mayor. On April 6th, 2016, the Minister of Interior and Municipalities issued a resolution no. 530 to establish a municipality in Zakroun. In the elections held in May 2016, the municipal council consisted of nine members elected by acclamation and the novel municipality earned 69 million Lebanese pounds as 2014 revenues.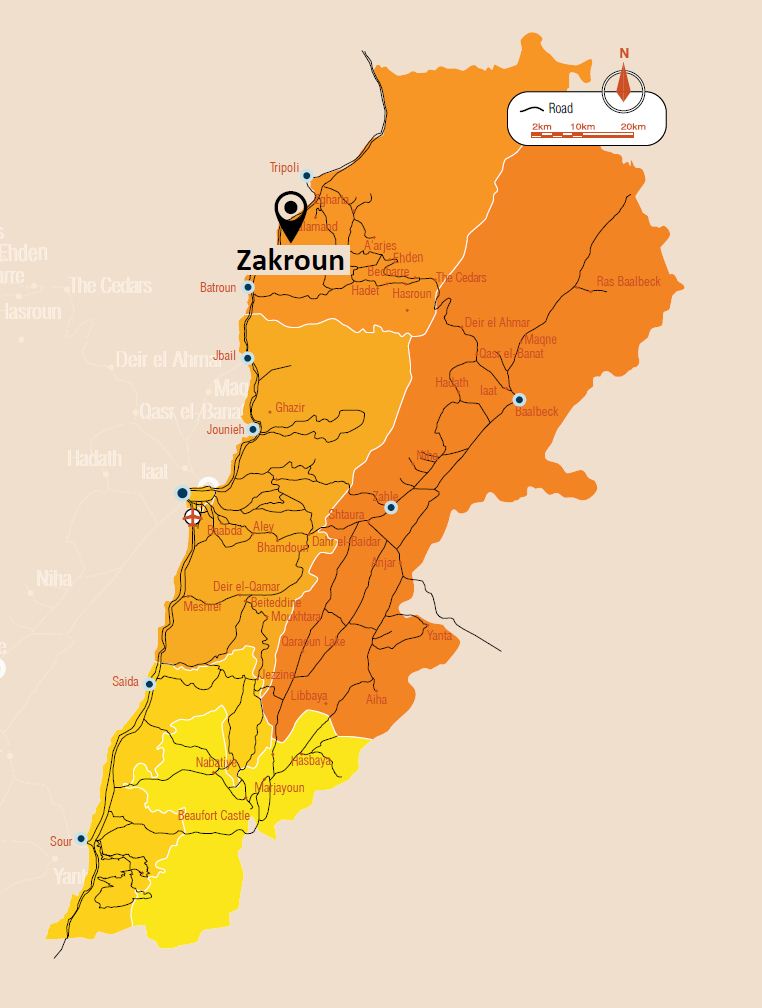 Economic Life

In order to support themselves, residents rely on their jobs and agricultural activities such as olive cultivation.
Problems

Zakroun village suffers from environmental pollution and from urban sprawl that eliminates the green spaces in a small village. The "Cimenterie Nationale" is currently seeking to change the zoning of the village to expand the company's quarry.